Industry Reports and Publications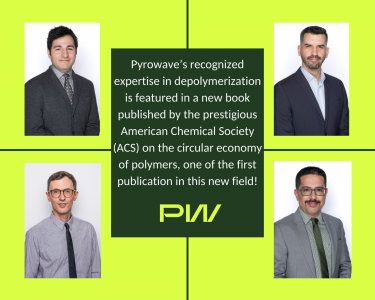 A scientific publication of Pyrowave in the American Chemical Society Publications
The Pyrowave's recognized expertise in depolymerization is featured in a new book published by the prestigious American Chemical Society (ACS) on the circular economy of polymers, one of the first scientific books on this topic.
This book, written in collaboration with multiple industry stakeholders, required more than 8 months of work by our team. With this industry collaboration, Pyrowave is proud to share his expertise and key learnings made over the last 10 years in circular economy of plastics. As a pioneer in electrification of chemical processes, we have developed a strong knowledge in depolymerization of plastic waste using microwave. As such, we have developed a unique perspective on the challenges and opportunities that are found in the field of circular economy applied to plastic waste. We are glad that the American Chemical Society solicited our input to that very unique publication in the field.
« Over the last 70 years, plastic usage has dramatically increased, with applications in every aspect of modern life. For much of this time plastics were used in a linear economy, being disposed of at the end of their first life. More recently, the amount of material being recycled and reused has increased but the extent of this activity has been limited by the requirement for clean, single material streams as feedstock for mechanical recycling. In this Chapter we will review the circular economy in general, plastics industry, and the circular economy of polymers. We will also explore the environmental impact and end-of-life (EoL) scenarios for plastics and how those factors impact newly emerging advanced recycling technologies. By enabling the use of more mixed waste streams and allowing for more thorough purification these technologies open the possibility for an unlimited number of recycle loops and hence facilitate the transition to a fully circular economy of polymers. »(Collias et al., 2021)
The entire Pyrowave team is delighted by the recognition of its expertise and the highlighting of its disruptive technology for the chemical recycling of plastics.
We congratulate Jocelyn Doucet, CEO of Pyrowave, Jean-Philippe Laviolette, VP Innovations, Ali Eslami and Amir Enferadi Kerenkan, both R&D specialists, as well as Philippe Leclerc, former R&D project manager at Pyrowave, for writing this chapter!
The book is available for purchase on the ACS website.