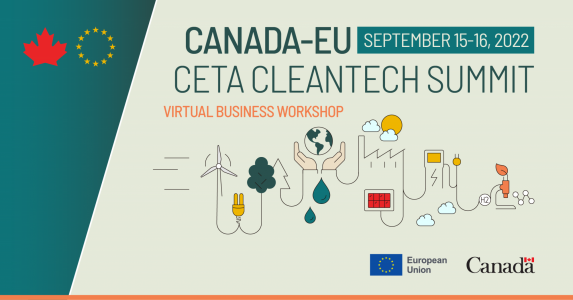 Jocelyn Doucet at the Canada-EU CETA Cleantech Summit
The year 2022 marks the fifth anniversary of the Comprehensive Economic and Trade Agreement (CETA) between Canada and the European Union (EU). To mark the occasion, Jocelyn Doucet, our CEO will be participating in the Canada-EU CETA Cleantech Summit- Virtual Business Workshop on September 15-16, where we can learn more about how to leverage CETA to achieve our energy transition and climate goals.
Our CEO Jocelyn Doucet will participate in the first session tomorrow, September 15 at 9am, "Opportunities for Canadian cleantech firms in the EU". Moderated by Peter Bouwer, Jocelyn will be joined by Wendy Franks and Myrna Bittner, to discuss lessons learned by Canadian companies looking to do business with Europe. The session is intended to provide real-life case study examples of Canadian companies operating in the EU. This is an ideal opportunity to share the experiences, successes and lessons learned by Pyrowave as a Canadian company operating in the European markets.
Register for free
here
to not miss this event.