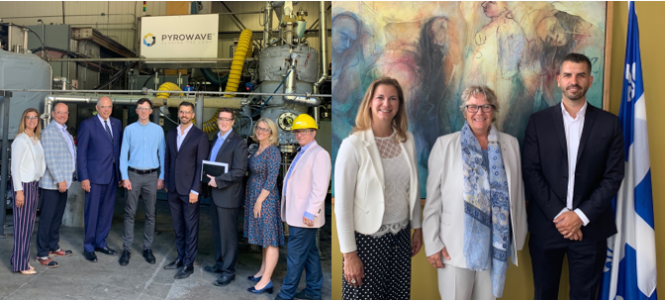 Meetings with Ministers Charette, Fitzgibbon and Rouleau
On August 15, Pyrowave was pleased to welcome Pierre Fitzgibbon, Minister of Economy and Innovation, Benoit Charette, Minister of the Environment and Climate Change, and Claude Reid, Beauharnois MP, to discuss Pyrowave's pilot plant expansion projects in Salaberry-de-Valleyfield.
During the same week, the Pyrowave Team had the opportunity to meet with Chantal Rouleau, Delegated Minister for Transport and Minister Responsible for the Metropolis and the Montréal Region, about the Quebec Government's Maritime Strategy.
Also in August, the Ontario Ministry of Economic Development, who identified plastics chemical recycling as an economic development strategic lever, delegated a representative to meet Pyrowave and partners in the Polystyrene Recycling
Consortium
with Revital Polymers in Sarnia, Ontario.