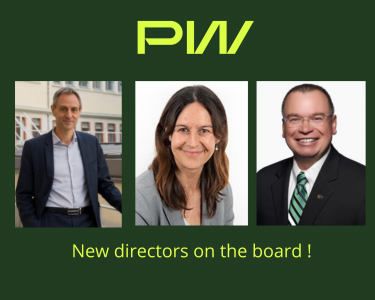 New directors on the board !
It is with pleasure that Pyrowave announces the arrival of James Rekoske to its board of directors.
Dr. Jim Rekoske is senior vice president, Research, Development and Engineering (RD&E) for Ecolab Inc., the global leader in water, hygiene and energy technologies and services that protect people and vital resources. In this role, Dr. Rekoske directs the strategy and execution of the RD&E function to ensure alignment of the new product portfolio across the Industrial Group and drive growth in revenue, margins and capabilities within the organization.
Prior to Ecolab, Dr. Rekoske served as the vice president of R&D and chief technology officer for Honeywell UOP. He had global responsibility for product development and introduction strategy for the $3 billion division of Honeywell involved in refining, petrochemicals and natural gas processing. Previously, Dr. Rekoske was the global business director for Honeywell's petrochemicals segment.
Dr. Rekoske holds bachelor's and master's degrees in chemical engineering from the University of Wisconsin-Madison, a Ph.D. in chemical engineering from the University of Delaware, and an MBA from the Booth School of Business at the University of Chicago, where he was the Amy and Richard F. Wallman Scholar.
"James brings critical expertise to our board at a unique moment of our company. His successful experience in commercializing and licensing technologies will help us bring our company to the next level", says Jocelyn Doucet, CEO of Pyrowave.
Upon the Annual General Meeting of Pyrowave, Christophe Rahier, Senior VP High-Tech Materials and New Businesses of Michelin was also nominated as the new representative of Michelin Ventures at the Board of Pyrowave.
M. Rahier is in charge of growing innovative businesses within Michelin and leveraging Michelin technological capabilities and innovations in sustainable materials.
Finally, Marie-Pierre Donati has been nominated as Fond de Solidarité FTQ observer to the board.
Pyrowave welcomes them to its board of directors and is looking forward to working with them on its development!